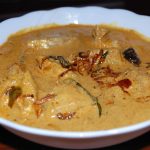 Fish cooked in spices, coconut milk, and cocum. It is the typical Trichur style fish curry. A great combination with rice 🙂 It's one of my favorite recipe passed down from mom and grand mom.
Ingredients
Thick coconut milk
1/2 Cup
Medium thick coconut milk
1 Cup
turmeric powder
1/2 Teaspoons
Chilly powder
2 Teaspoons
coriander powder
2.5 Teaspoons
Steps
Soak cocum (kudampuli) in 4 tbsp salted luke warm water for 15 - 20 minutes.
Heat oil in a pan. Saute small onion , ginger , green chilly and curry leaves.
Once onion turned light brown, add turmeric, chilly and coriander powder. Keep it in low flame. Saute it well.
Add thick and medium coconut milk. Add water in which cocum was soaked. Taste the mixture and add soaked cocum pieces as required. Add enough salt. Keep it in low flame.
Bring it to boil and then add cleaned fish pieces. Cook it till fish gets cooked and gravy is consistent. It would take around 20 minutes.
Garnish with fried small onions and curry leaves.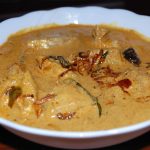 Similar Recipes