Jump to Recipe Print Recipe Jump to Q&A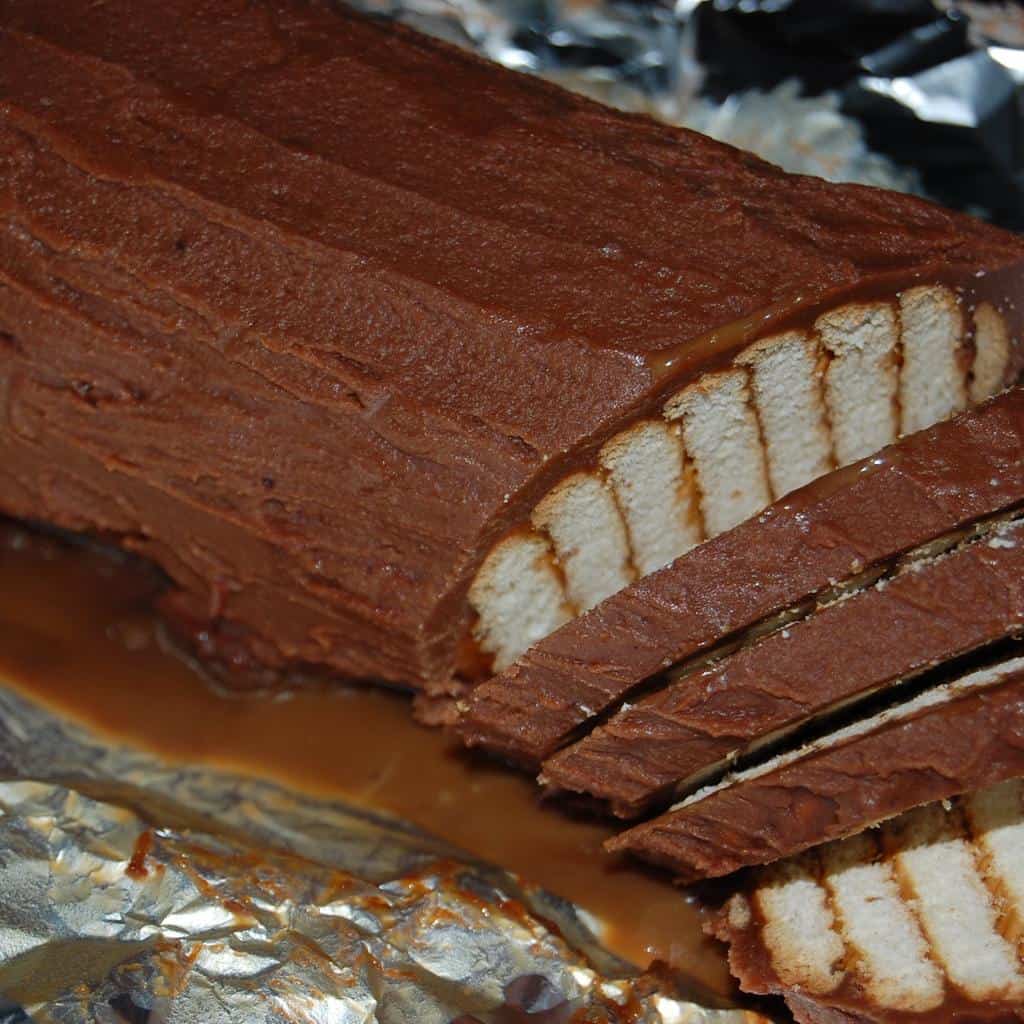 Marie biscuits dipped in a coffee mix and coated with chocolate. This is incredibly easy to make, yet yummy chocolate snack. You just need all ingredients on hand. It is a simple and quick no bake eggless biscuit cake recipe. And a comfort food for sweet toothers. Kids are gonna love this. Recipe adapted from my aunt 🙂
Ingredients
143

Grams

Marie gold biscuit

(1 packet)
Coffee Mix
2

tbsps

Powdered sugar

3 ½

Tablespoons

all purpose flour / maida

1 ½

Teaspoons

Instant Coffee powder

½

Cup

milk
Chocolate Mix
50

Grams

unsalted butter

6

Tablespoons

Powdered sugar

½

Tablespoon

cocoa

Powder

½

Tablespoon

Drinking Chocolate

Powder
Instructions
Coffee Mix
Mix ingredients listed under Coffee mix. This would be medium thick.

Dip marie biscuit one by one in the above prepared coffee mix. Biscuits should be well coated. Arrange biscuit as a stack one on top of the other.

Once all biscuits are coated well, lie down the stack. Preferably, keep it in an aluminium foil.
Chocolate Mix
Heat butter until it gets melted. Mix 6 tablespoon sugar, cocoa powder, chocolate powder and melted butter. This would be a thick mix.

Cover the whole biscuit stack with chocolate mix uniformly.

Cover with aluminium foil and keep in fridge for 3 hrs.

Here comes the most tricky part. Cut it into slices from the corner at 30 degrees. Initial two pieces will be small and after that you will get the regular size slice.

It can be stored in refrigerator for a week.
Notes
You can replace drinking chocolate for drinking chocolate powder in this recipe.
Questions & Answers
Does this have ganache?
No. This recipe does not use ganache
Can I add cashew nuts to this recipe? Should I remove the equivalent amount of biscuits if I add cashew?
You can add a few split cashews. No need to reduce the biscuit content. Make sure you fold in the chopped cashew or any other nut during the chocolate mixing process. I have never tried it though.
What's the shelf life of this recipe? Should I keep this in the refrigerator?
You have to keep this cake in the refrigerator. It'll melt outside. The shelf life is a max of one week.
Should we use salted or unsalted butter?
Can I substitute Marie biscuit with digestive biscuits?
Yes. You can substitute it with any digestive biscuits or graham crackers. The other great biscuit options are Gluco biscuits or Parle-G biscuits. Parle-G is one of the best-selling biscuit brand in the world.
Other than cocoa powder, can I use any powdered chocolate milk instead?
Yes, you can use any unsweetened cocoa powder substitutes. Best alternatives are unsweetened baking chocolate powder, Carob powder and even Hot cocoa mix. Or you can substitute it with drinking chocolate powder. Adjust the quantity of sugar, incase you are replacing with a sweetened powder.
How about chocolate pudding mix? Can I use it as an alternative?
When the biscuit stack is cut, how do the stripes appear?
You should not cut horizontally. Cut it into slices from the corner at 30 degrees. You will get the stripes. Initial two pieces will be small, and after that, you will get the regular size slice. If you cut horizontally, each and every single biscuit comes out.
Should it be kept in the fridge or freezer for 3 hrs??
It has to be kept in the fridge. No need to freeze it.
Can I use normal sugar or should it be icing sugar?
If you are using normal sugar, powder it and use it, so that it gets mixed well for both the coffee mix and chocolate mix. If you are using icing sugar, you can use it as it is.
I only have cornflour at home, would that be alright? Is it a good alternative, or should I stick with all-purpose flour?
it's better to stick with All purpose flour/maida.
Instead of dipping the biscuits on an Instant Coffee mix, is it alright to dip them in milk?
Coffee gives you a good flavor. If you want to avoid coffee in the mix, you can. Make sure that sugar, maida and milk mix has medium thick consistency.
For the chocolate coating mix, I am planning to melt some dark chocolate instead of using cocoa powder and chocolate powder. Should I melt the dark chocolate with butter at room temperature?
Yes, you use it though make sure you are careful with the ratio.
How long should I dip the biscuits in the coffee mix?
Just dip it and remove it after a second. You just need to coat it with the mix. If you soak it for long, it will become soggy and can break.
Is it ok if I stack the biscuits and then later on pour the coffee mix?
It is better to dip each biscuit and then stack them. If you pour the coffee solution straight to the stack of biscuits, every biscuit won't be appropriately coated with the coffee mix.
Can I add some vanilla extract to my biscuit cake?
Yes, it is alright to add vanilla extract.
Where can I buy marie biscuits or digestive biscuits?
Marie biscuits or digestive biscuits are usually available at Indian and Asian stores or you can try looking up online. Some may refer it as tea biscuits found in UK and are also known as Maria, Mariebon, and Marietta.