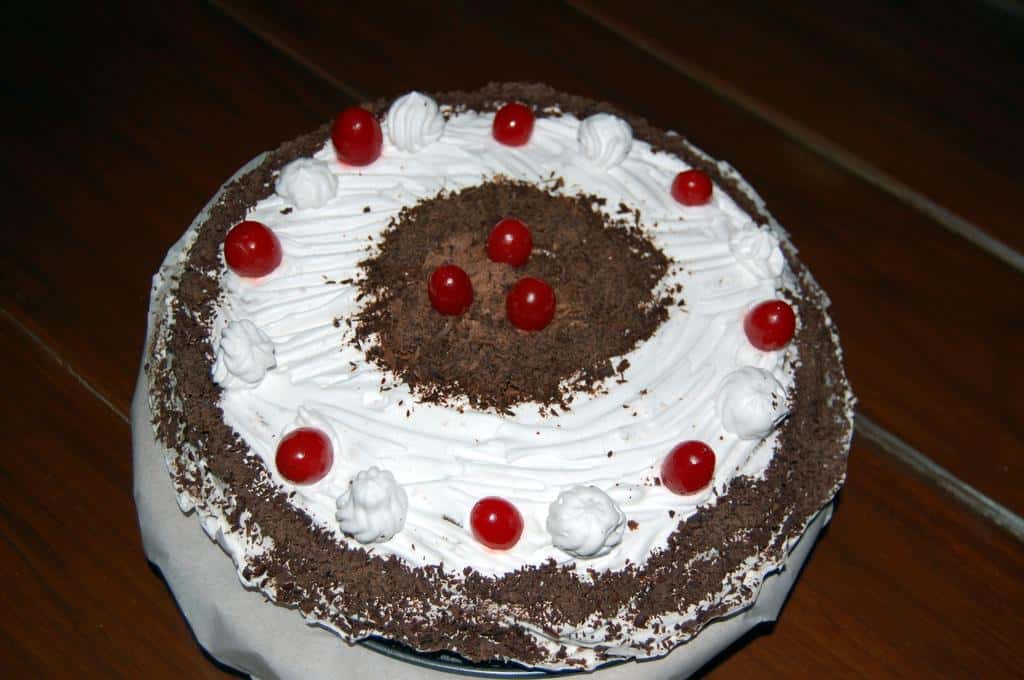 Chocolate sponge cake moistened with cherry syrup, sandwiched with cherries and topped with whipped cream frosting.I prepared it for my sister's bday and it was delicious!! This is inspired from Noor's recipe with minor variations.
Ingredients
Chocolate Genoise
6

egg

num

1

cup

sugar

Granulated

¾

cup

all purpose flour

1 ½

tbsps

corn starch

¼

cup

cocoa

powder

1

teaspoon

vanilla extract

Pure
Cherry filling
300

grams

cherry

¾

cup

sugar

granulated

3

tbsps

water

1   ½

tbsps

brandy
Whipped Cream Frosting
2 ½

cups

whipping cream

(heavy)

2

tbsps

sugar

confectioner's

½

teaspoon

vanilla extract

pure
Instructions
Preheat oven to 350 degrees F (180 degrees C). Butter, or spray with a non stick spray, a 9 inch (23 cm) round cake pan and line the bottom of pan with parchment or wax paper.

Separate egg yolks and whites. Beat the egg whites till soft peaks are formed.

Add egg yolks and beat again.  Powder sugar. Add sugar and beat till everything is blended well. It should be super foamy and mousse like. Add vanilla and beat for another 1 minute.

Prepare cake flour - Remove 1 ½ tablespoons of All purpose flour from ¾ cup. Replace the removed all-purpose flour with 1 ½ tablespoons of cornstarch. Sift flour 5 times.

Sift cake flour and cocoa powder. Sift about one-third of the flour mixture over the egg mixture and gently fold in using a rubber spatula or whisk. Sift and fold in another third, and then fold in the rest.

Pour batter into the pan. Bake for about 20 - 25 minutes or until a toothpick inserted into the center comes out clean.

Prepare filling - Keep aside around 10 - 15 cherries for final decoration.Wash cherries and cut them into half.  In a sauce pan, add granulated sugar, water and cherries. Bring it to boil.

When the sugar completely melts, turn off the stove. *** Avoid overcooking the fruits. Let it cool and then add the brandy. Keep it refrigerated overnight.

Prepare Whipping Cream frosting - In your mixing bowl place the whipping cream, vanilla extract and sugar and stir to combine. Cover and chill the bowl in the refrigerator for at least 30 minutes. Then beat the mixture just until stiff peaks form.

Assemble the cake - Cut the genoise horizontally into 2 layers by using a sharp knife or using floss. Drain the cherries and get the syrup. Place first layer of cake on the serving plate. Brush/drizzle the first layer of cake with half of the cherry syrup. Spread whipped cream on the moistened genoise.  Place cherries evenly on top of it.  Top it with next layer. Drizzle rest of the syrup on top of the genoise.  Spread the whipped cream. Decorate with whole cherries and shaved chocolate.