Chicken strips marinated, fried and sauteed in a spicy and tangy sauce. Serve dragon chicken as an appetizer or as a side dish with chicken fried rice or vegetable fried rice or Singaporean fried rice or any other Asian rice preparation.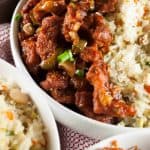 One of my favorite appetizer in Indo-Chinese restaurants. Quick and delicious dish. You are gonna love this!
Ingredients
boneless chicken (2 breast pieces)
700 grams
Vegetable oil or Sunflower oil
Marination
regular soy sauce
2 teaspoon
chilli powder
1 tablespoon
pepper powder
1 teaspoon
ginger paste
1 teaspoon
garlic paste
1.5 teaspoon
all purpose flour / maida
5 tablespoon
corn flour / corn starch
4 tablespoon
Gravy
split cashewnut
1/2 cup
spring onion / green onion
2 stalk
Bell pepper / capsicum
1 number
regular soy sauce
2 tablespoon
tomato ketchup
1/4 cup
dried red chilli
10 number
ajinomoto (optional)
1/2 teaspoon
Steps
Clean and cut chicken into thin strips. If you are using thick chicken breast, first horizontally cut it into halves, then cut each half into thin strips. It's important that you cut it into uniform size pieces.

Prepare marinade - Beat the egg. Add ingredients listed under marination - cornflour, all purpose flour, ginger and garlic paste, chilli powder, pepper powder, soy sauce, salt and mix well. Marinate chicken pieces and keep it aside for minimum 1 hr. Chilli powder helps to get the red color.

Heat oil in a kadai. Deep fry the marinated chicken pieces until golden brown. Fry it in small batches.

Drain them in kitchen tissues.
Crush or grind ginger and garlic into fine paste. Chop spring onion bulbs into small pieces. Cut bell pepper into thin strips. Split dried red chilli and have it ready. I did it in the chopper.
In the same kadai, remove excess oil. Use rest of the oil for the sauce preparation. Fry cashews and keep it aside.

In medium flame, saute ginger and garlic in the same pan. Once it's sauteed well, add dried red chilli. Give a stir.

Add chopped spring onion bulbs. Since I didn't have the bulbs this time, I added shallots instead. Saute it for a couple of minutes.

Then add bell pepper. Saute them well until light brown. Add oil as needed.

Mix soy sauce and tomato ketchup. Add the sauces, sugar and ajinomoto into the pan. Ajinomoto is optional. Mix it well. Taste the gravy and add the sauce, if needed according to your taste. If you find, sauces are getting dry, sprinkle some water.

In medium high flame, add fried chicken pieces and toss in half of the spring onion greens and fried cashew nuts. Mix everything well. Stir it well for a couple of minutes, until chicken get coated well with the sauces.

Garnish with the rest of spring onion greens and fried cashew nuts. Serve it hot. Enjoy 🙂
Notes
I used Maggie tomato ketchup and regular soy sauce. If you are using Dark Soy sauce, reduce the soy sauce measurement. Adjust the sauce quantity as per your taste. With different brands, taste can differ a bit.
If you are using chilli tomato ketchup, adjust dried red chilli quantity accordingly.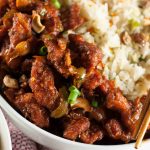 Similar Recipes