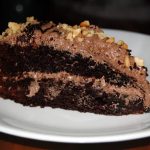 This is a fabulous cake! A melding of chocolate, mocha and cream cheese flavors 🙂 Without frosting, the cake alone  is also very delicious. Chocolate ganache also makes a wonderful topping for this cake.
Ingredients
Cake
unsalted butter
1 Cup
vanilla extract
3 Teaspoons
all purpose flour
3 Cups
cocoa Powder
3/4 Cup
baking soda
3 Teaspoons
coffee Black
1 1/2 Cups
sour cream
1 1/3 Cups
Frosting
cream cheese
12 Ounces
unsalted butter
6 Tablespoons
chocolate Bittersweet
6 Ounces
coffee Black
6 Tablespoons
vanilla extract
2 Teaspoons
sugar Confectioners
4 1/2 Cups
Steps
Preheat oven to 350°F. Make sure that butter is at room temperature. In a large bowl, cream butter and brown sugar until light and fluffy.
Add eggs, one at a time, beating well after each addition. Beat in vanilla.
Combine all the dry ingredients - flour, cocoa, baking soda and salt.
Prepare black coffee with triple the strength of a normal black coffee. I used 3 tsps of coffee powder to prepare 1 cup coffee. Let your coffee cool down.
Add to creamed mixture alternately with cooled coffee and sour cream, beating well after each addition.
Pour into three greased and floured 9-in. round baking pans. Bake 30-35 minutes or until a toothpick inserted near the center comes out clean.
Frosting :- In a large bowl, beat cream cheese and butter until fluffy.
Prepare coffee in the same manner. Beat in the chocolate, cooled coffee and vanilla until blended.
Adjust confectioners sugar quantity according to your desired sweetness. Gradually beat in confectioners' sugar.
Place one cake layer on a serving plate. Spread the filling. Repeat layers. Top with remaining cake layer. Spread frosting over top and sides of cake. Cover and refrigerate until serving.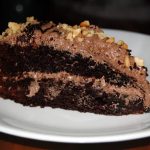 Similar Recipes