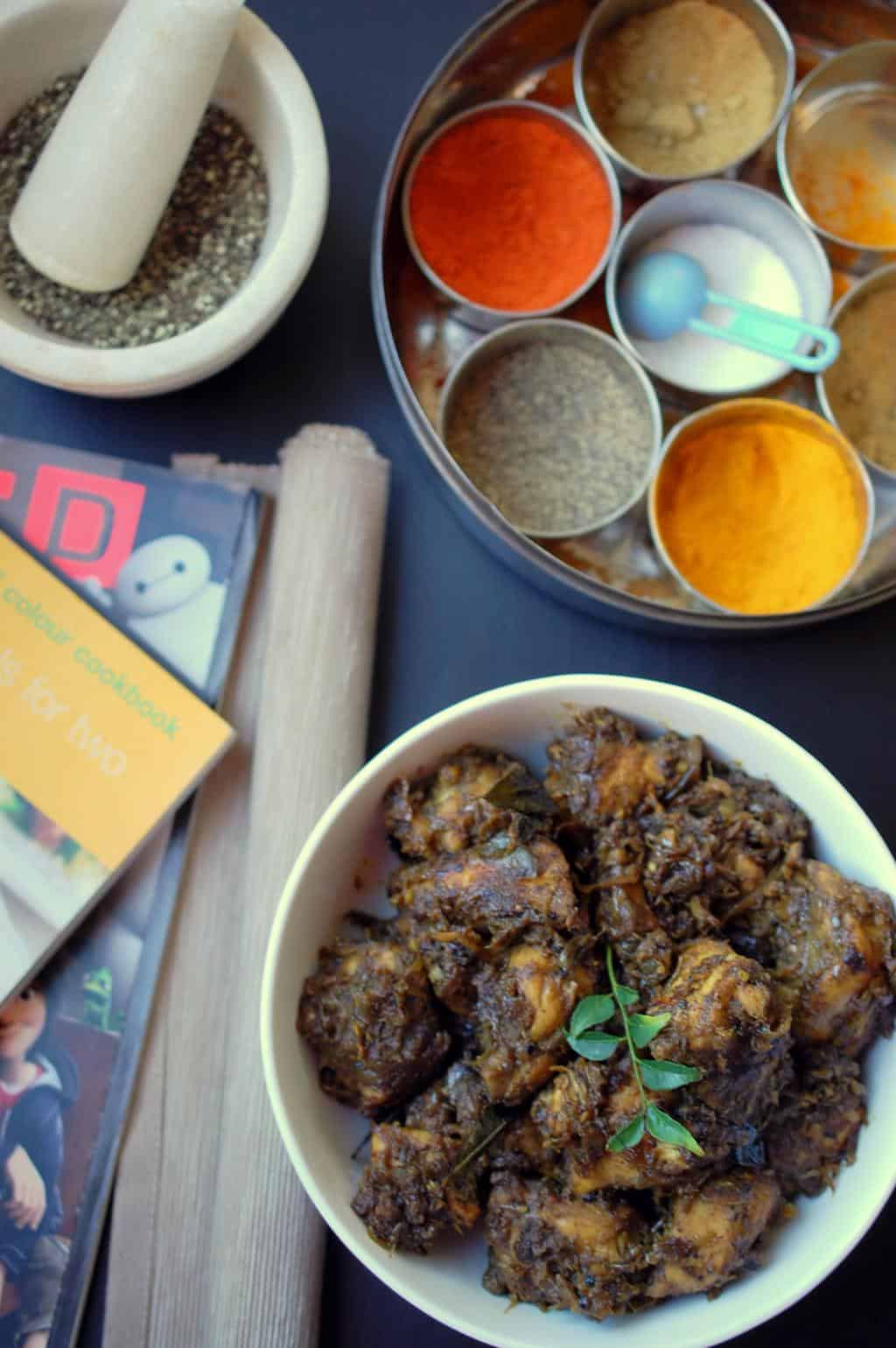 Chicken pieces cooked and roasted with pepper and spices. It is a perfect preparation to serve to your guests along with rice or chapati (Indian bread). Never replace whole black pepper with pepper powder in this recipe. It is a quite easy recipe for kerala pepper chicken preparation.
Ingredients
Marination
pepper powder
1 1/2 Teaspoons
turmeric powder
1/2 Teaspoon
lemon juice
1 1/2 Tablespoons
Masala
ginger , crushed
1 1/2 Tablespoons
garlic , crushed
1 1/2 Tablespoons
green chilli , slit lengthwise
3
black pepper Whole
2 1/2 Tablespoons
fennel powder ( Perinjeerakam powder)
1 Teaspoon
Steps
Marinate the cleaned chicken pieces with salt, pepper powder, turmeric powder and lemon juice. Keep it aside for 30 minutes.

Crush the whole black pepper and keep it aside. Adjust black pepper according to your spice tolerance level.
Thinly slice onions and green chilly. Grind ginger and garlic into a fine paste.

In a kadai, heat the oil. when hot enough, add onions and curry leaves and saute well. Adding salt, helps the onion to get cooked fast.
When the onions are brown, add the ginger, garlic and green chilli. Saute well till the aromatics release their flavor.

Add garam masala, fennel powder and crushed black pepper. Saute well.

Add marinated chicken pieces and stir around till the chicken pieces are well coated with the masalas. Don't add water.

Cover and cook for 20 minutes.
Now open the lid and cook until the water evaporates.

Add 2 - 3 tsps oil and saute it till it gets roasted well. Best served with rice 🙂
Notes
This is a traditional Kerala style chicken in spicy brown gravy preparation. I have tried to keep the recipe simple by using simple ingredients, which are most of the time readily available in our kitchens and the method to this flavorful delicacy is very intuitive and easy to follow.Tastes best when prepared with chicken with bone.
Though quite a few spices are used in this gravy, peppercorn is the magic ingredient here which adds a punch to the recipe. But strongly recommend you not to skip any of the ingredients listed.
Try it out yourself and I am sure you will love it too.